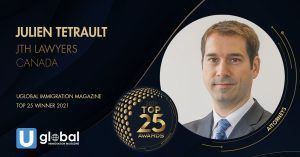 JTH Lawyers President and founder, Julien Tetrault, has been named as one of the world's top 25 global migration lawyers for 2021 by Uglobal magazine. This is the second year in a row that Julien has picked up this award, having also been named on the list in 2020.
Julien is the only lawyer based in Canada named on the list due to his excellent record of successfully processing immigration applications to Canada, as well as globally.
Resulting from a global poll, Uglobal awards this prestigious distinction to migration lawyers worldwide who specialize in processing a high volume of successful immigration by investment applications, whilst also maintaining a high level of customer service.
Julien started his career in immigration by investment for Canada in Hong Kong in 2002, and moved back to Canada in 2006. In 2013, he launched JTH Lawyers, based in Montreal, Canada.
Speaking after being named for this prestigious award for the second year running Julien said "I am proud to receive this award again this year – it is a testament to the hard work that the whole team at JTH Lawyers puts into ensuring the best levels of customer service for our clients around the world.
The last 2 years have been challenging in the industry due to the Covid situation globally, but we are now seeing an upturn in new applications.
I have used the pandemic slowdown to go back to my study board and improve the offer to our clients: completing due diligence processes to find innovative ways to get our clients into RCBI programs and adapting the way in which we reach out to our clients due to the difficulties in international travel."
JTH Lawyers offer immigration by investment mainly to Canada but also to the USA, Europe and the Caribbean. Since 2002, we have represented over 1,000 immigrant investors from over 80 countries in obtaining permanent residence and/or citizenship in various countries around the world.
For more information, please contact us at info@jthlawyers.com; our hotline +1(514)3970995 or WhatsApp +855(0)98676782.
Begin your application now!
Free consultation to understand your needs and provide result-oriented tailor-made immigration solutions. Complete our free assessment and we will review your eligibility for your desired programs! Simply fill out the form and we will be in touch with you within a business days in order to advise you of the following steps.