CITIZENSHIP BY INVESTMENT SPECIALISTS
Since 2002, our dedicated lawyers at JTH Lawyers have been assisting over 1,000 immigrant families from over 80 countries in obtaining their Permanent Residence in Canada by passive investment. Our lawyers specialize in offering a seamless experience in obtaining one of the following; Canada Start-Up Visa Program Approval, US-EB5 Application Approval, Cyprus Permanent Residency Program Approval, Antigua & Barbuda Citizenship By Investment Program Approval, and more.
JTH Lawyers is a Top 25 Global Law Firm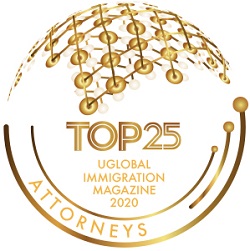 JTH lawyers Inc. is a specialized immigration law firm assisting Business Investors and entrepreneurs around the world in obtaining Permanent Residence and second citizenship in other countries. At JTH, we provide legal assistance to high net worth individuals who want to immigrate to Canada, the United States, Europe, Caribbean or other countries, particularly through the Quebec Immigrant Investor Program (QIIP), Canada Start-Up Visa, US EB-5, Permanent Residency, Citizenship by Investment Program in European or the Caribbean countries. JTH Lawyers was nominated as a top 25 global leader by UGlobal Immigration for our specialty in residency and citizenship by investment programs worldwide.
Let us assist you in effectively navigating the complex and often changing laws of working, immigrating, investing, or studying in Canada, the United States, and many other countries.
Start Your Investment Visa Application Now!
Free consultation to understand your needs and provide result-oriented tailor-made immigration solutions. Complete our free assessment and we will review your eligibility for your desired programs! Simply fill out the form and we will be in touch with you within a business days in order to advise you of the following steps.
 Investment Immigration Programs to Canada, US, EU, Caribbean & More
PERMANENT RESIDENCY
Residency by investment refers to the privilege to live permanently in a nation in exchange for a financial investment; Permanent residence refers to a person's legal resident status in a nation or territory where he or she is not a citizen but has the right to live indefinitely. This is generally for a long time; a permanent resident is someone who has this legal status.
CITIZENSHIP
Citizenship by investment is the most efficient approach to get a second passport in exchange for a substantial financial commitment. Citizenship is a legal status conferred on a person by the laws of the country to which they belong. Each state is allowed to decide under what circumstances it will recognize people as citizens and under what circumstances that status would be revoked.
The Canada Start-Up Visa (SUV) Program allows entrepreneurs and their families to gain permanent residency in Canada by building a qualified innovative firm with the help of a certified company. Set up your own start-up company in Canada OR invest in a genuine new Start-up company in Canada: hassle-free and straight to Permanent Residence!
Here are some of the legal privileges of a permanent resident in Canada:
Several Canadian cities amongst the top 10 best cities in the world
High quality of life
Strong economy
Excellent education system
Free health care system
Low taxes
Low business costs
Excellence in research and innovation
Low language requirement
No employment requirements
Protection under Canadian law and Charter of Rights and Freedoms
Multiculturalism and multilingualism
Once all the requirements of the applicants are met, application timeline is approximately 24-30 months
The United States Citizenship and Immigration Services administers the Immigrant Investor Program, also known as "EB-5," created by Congress to stimulate the U.S. economy through job creation and capital investment by foreign investors.
Here are some of the legal privileges of a United States Citizenship:
Quality of life
Country of opportunities
World's largest Economy
Diversity in landscape and climates from coast to coast
Strongest collection of Elite colleges in the world
One of the Leader in the field of science, medical research and high technology
One of the fastest methods to gain permanent residency in the United States
No visa sponsor requirements
No H-1B work visa needed for employment
Once all the requirements of the applicants are met, the current application timeline is approximately: 2 years to receive temporary green card and 4 years+ to receive the permanent green card
Cyprus has become increasingly popular for non-EU high net worth individuals seeking permanent residency in an EU-member state. It is one of the fastest immigration processes into Europe, where most cases are completed within a period of 60 to 120 days.
Here are some of the legal privileges of The Cyprus Permanent Resident:
Investing in Real Estate EUR 300,000 + VAT
Granted within 2 – 4 months
No language and examination requirements
Covers the whole family including dependents and parents
Valid for Life
Permanent Resident in an EU Member State
Visit Cyprus only once every 2 years
Pathway to Citizenship after 7 years stay in Cyprus
Property acquired is freehold, no inheritance tax, annual property tax, and reduced 5% VAT for the first purchase of the main residence
Hight-standard education and healthcare facilities
Lowest crime rate in Europe
Access to beached, mild climate and tourist destination in Cyprus
Once all the requirements of the applicants are met, the current application timeline is approximately: 2-4 month
Antigua and Barbuda is an independent Commonwealth state in the Eastern Caribbean. A member of the United Nations, the British Commonwealth, CARICOM and the Organisation of American State (OAS) among many other international organizations.
Here are some of the legal privileges of The Antigua and Barbuda Citizenship:
Commonwealth passport
Approximately 3-6 months processing time
No Personal income tax on worldwide income
No restriction on repatriation of profits and imported capital
Dual citizenship allowed
Visa free /Upon arrival to over 150 countries including Hong Kong, Singapore, UK, and Europe
Resident requirement of only 5 days within 5 years of citizenship
Direct flights to UK, Canada, USA, Italy, Caribbean islands
Once all the requirements of the applicants are met, the current application timeline is approximately: 3-6 months