On January 3rd, 2023, the U.S. Citizenship and Immigration Services (USCIS) posted a Notice of Proposed Rulemaking (NPRM) recommending an increase in EB-5 Fees.
The proposed fee for Application Form (I-526E), Immigrant Petition by Regional Center Investor, is $11,160 (from the current $3,675 fee).
The proposed fee for Form I-829, Petition by Investor to Remove Conditions on Permanent Resident Status, is $9,525 (from the current $3,750 fee).
Investors can save $13,260 if they now enter the queue for improved processing times without paying the additional fees.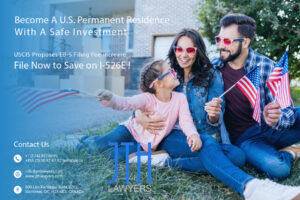 Begin your application now!
Free consultation to understand your needs and provide result-oriented tailor-made immigration solutions. Complete our free assessment and we will review your eligibility for your desired programs! Simply fill out the form and we will be in touch with you within a business days in order to advise you of the following steps.