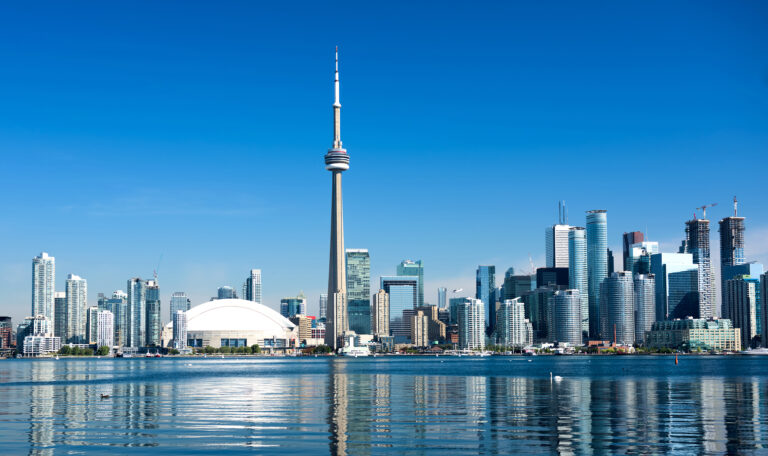 Canada is always high on the list for anyone wishing to emigrate to a new country. There are many reasons for this which we look at in more detail below.
On the 2021 US News list of "Best Countries In The World To Live In" Canada once again ranked number 1 country in the world based on various metrics such as quality of life, education, healthcare amongst others. Now we'll look in more detail at the most popular 5 cities in Canada for expats.
The top places for expats to live in Canada are Vancouver, Toronto, Calgary, Montréal, and Ottawa. All five cities rank highly in quality of living:
Vancouver is an ideal choice among expats due to its natural landscape, and multicultural, tolerant community, mild climate, proximity to Asia.
Toronto is the country's largest and most ethnically diverse city making it one of the most comfortable places in which expats can integrate.
Calgary is a safe city in Canada, boasting extremely low crime rates, which makes it an attractive option for many expats.
Montréal is a "European city in North America". Ideal place for Foodies, French & English widely spoken, expats should remember rents are generally lower here than in popular Toronto & Vancouver.
Ottawa is Canada's capital city and is ranked as having the second-highest standard of living of any cities in the Americas.  It is also ranked as the third cleanest city in the world.
Let's take a closer look at these 5 cities and what they have to offer.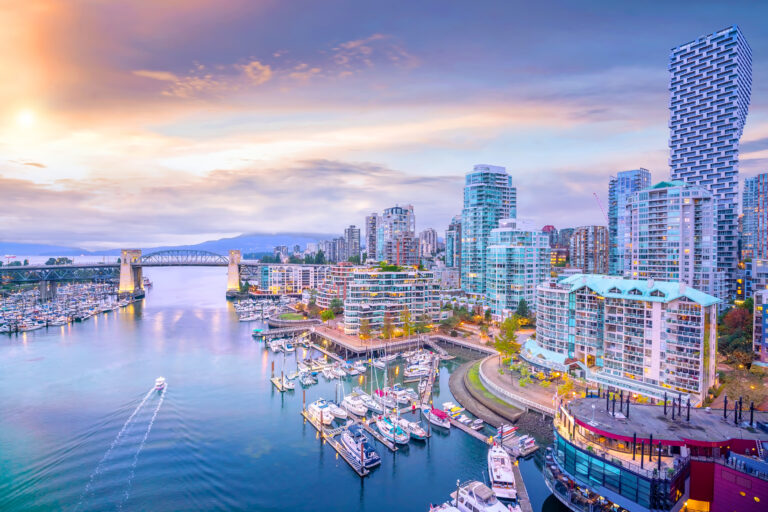 1. Vancouver
Vancouver is one of the best and most popular destinations for expats due to its nature, mild climate and culture. It is surrounded not only by breathtaking mountains, but also the expansive Pacific Ocean as well. It is an excellent place for skiing, snowboarding, surfing, whale watching, and other outdoor activities.
This city ranks high in healthcare, education, culture, and the environment. It is one of the most multicultural cities in Canada, making it an ideal spot for expats from all countries to integrate. Nearly 50% of the population speaks a language other than English.
This West Coast city is a very tolerant and diverse city, which makes it an extraordinary town for foreigners to settle down. People are amicable with one another, and it is well known to be one of the world's friendliest cities.
Vancouver is the third largest city in Canada. It is located in the province of British Columbia on the West Coast. It is an urban city compacted into a tiny area. 
Unemployment is low in Vancouver with a variety of thriving industries and employment opportunities. On average, workers in this city make 56,603 CAD (42,682 USD) salary per year.
Vancouver is one of the most expensive cities in Canada. The average cost of living is 40,680 CAD (30,400 USD) per year. For a one-bedroom apartment in the city, you can expect to pay 2,080 CAD (1,550 USD) per month in 2021. Even those hoping to buy a home will find some of the highest prices in this hotspot city. You can expect to pay an average 1,092,000 CAD (821,555 USD).
A monthly transport pass will set you back between 75 and 95 CAD (57–72 USD). For an hour taxi ride, you can expect to be charged 34 CAD (25 USD). An average phone plan will cost you around 75 CAD (57 USD) per month. Finally, for groceries and household items, make sure to budget roughly 315 CAD (238 USD) monthly.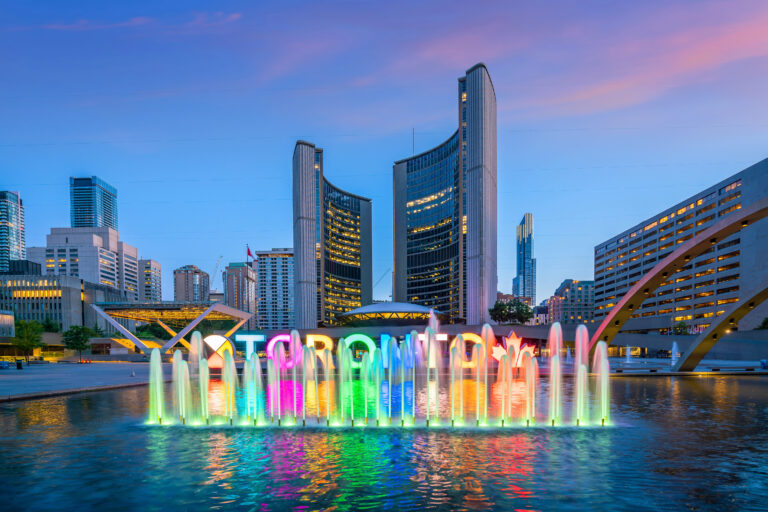 2. Toronto
Like Vancouver, Toronto is also a very multicultural and tolerant town, so integration should be easy for expats of all backgrounds. There is a diverse, international community, as nearly half of the city's residents were born outside of Canada. Toronto's population is comprised of more than 230 nationalities, making it the country's most ethnically diverse city.
Toronto's influx of immigrants has undoubtedly influenced the city's assorted culture and even its cuisine. The city can be described as a business-minded, conscientious, socially progressive, and pluralistic metropolitan. There are many museums, cultural activities, festivals, and sports events throughout the year.
Toronto has an area of 630.2 km squared and a population of 2.93 million. This is the largest city in Canada and is found in the Eastern province of Ontario.
Employment opportunities are great in Toronto especially in the fields of IT, film and cinema, biotechnology, business and media.
In terms of the cost of living, Toronto is the most expensive city in Canada. Per year, your cost of living will be an average of 45,380 CAD (33,880 USD). The median monthly rent in Toronto is 2,270 CAD (1,700 USD) for a one-bedroom. If you wish to buy a house you will need an average of 766,000 CAD (576,290 USD).
If you purchase a monthly transportation pass in Toronto, you will need to set aside 146 CAD (109). For an hour taxi ride, you will need to pay 31 CAD (23 USD).
If you wish to enroll your child in an international school, expect to pay an average of 1,977 CAD (1,476 USD) per month in tuition fees.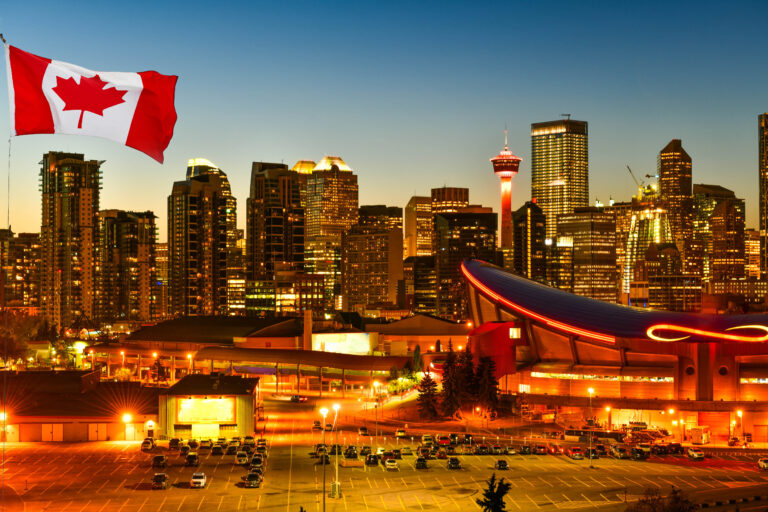 3. Calgary
Calgary is sometimes known as being the most "American" of Canadian cities, given its cowboy character, conservative leanings, and social policies. In comparison to Vancouver and Toronto, it lacks multiculturalism, although the city is working hard to discard this image.
This Canadian city offers plenty of outdoor adventures and activities, along with many arts and cultural destinations. With a bonus of an extremely low crime rate, low sales taxes, and a good transportation system, it is no wonder expats flock to this top metropolis.
Cultural life in this city is extremely diverse, as there is a varied population of people of all different backgrounds. Expats will find an abundance of art, food, fashion, film, festivals, literary events, and cultural celebrations throughout the year.
The area of Calgary is 825.3 km squared (8,883 square miles). It has a population of 1.3 million and is located in the province of Alberta.
There are several thriving industries in the area especially in the areas of oil, gas and petroleum, IT, financial planning, tourism and healthcare.
Like Toronto and Vancouver, Calgary also has a high cost of living, although not as soaring. The average cost of living in Calgary is 33,855 CAD (25,276 USD) per year. If you want to purchase a home here, you will need to pay roughly 431,000 CAD (324,260 USD). If renting, you will need to set aside anywhere between 750 and 1,000 CAD (564–753 USD) per month, and that is just for a simple studio apartment, unfurnished. You will also be expected to put down a full month's deposit.
In a three to four-bedroom home, you can expect to pay between 200 and 250 CAD (151–188 USD) for heating and electricity (even in winter). Internet costs will come out to 50–70 CAD (66–93 USD).
In Calgary, a monthly transport pass costs 106 CAD (79 USD), and an hour taxi ride will cost you 29 CAD (22 USD).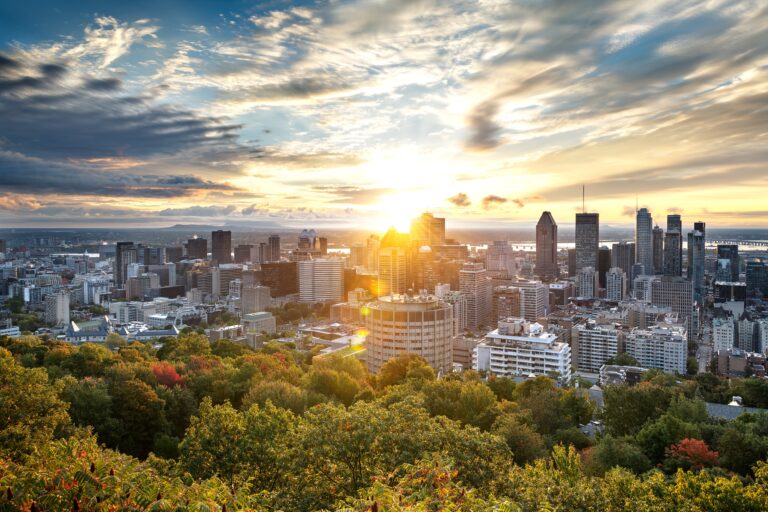 4. Montréal
Named the fifth best city in the world for expats, Montréal should be at the top of your list if you are thinking of moving to Canada. Expats in this city are especially pleased with the work-life balance and their options for housing, which are both affordable and easy to find. The general opinion is that the quality of life is high.
Expats seem to agree on one drawback of living in Montréal, the climate. Winters would typically bring snow from late December to March, and expats would have to cope with the adaptation at least the first year!
As one of the most bilingual cities in the country, you can get away with speaking either English or French. The official language, however, is French, with the Francophone community making up 65% of the resident population. For that reason, English-speaking expats can sometimes struggle to integrate in the local culture.
However, you will still find the city to be multicultural and home to a growing community of expats. Once referred to as Canada's cultural capital, Montréal has plenty to offer when it comes to city life, entertainment, fashion and leisure.
Montréal is the second most populated city in Canada, and the most populated in the province of Quebec. It has an area of 431 km squared (4,639 square miles), and a population of 1.7 million. Despite the city's relatively small area, it has the second highest number of consulates in North America.
The most prevalent industries in the city include commerce, education, technology, pharmaceuticals and tourism.
A single person living in Montréal should expect to spend approximately 28,000 CAD (21,100 USD) a year. That would be around 1,000 CAD (750 USD) a month without rent.
Housing will take up a big part of your expenses, although the majority of expats still consider it affordable. Exact costs will vary but expect to pay around 1,200 CAD (900 USD) a month for a one-bedroom apartment and 2,000 CAD (1,500 USD) for a three-bedroom apartment in the city center. In areas further from the city center, those would go down to 800 and 1,300 CAD (980 USD), respectively. Utilities would add around 90 CAD (67 USD) to that, plus 45 CAD (33 USD) for internet.
If you are planning on using the public transportation system there, budget for an additional 86.50 CAD (65 USD) a month.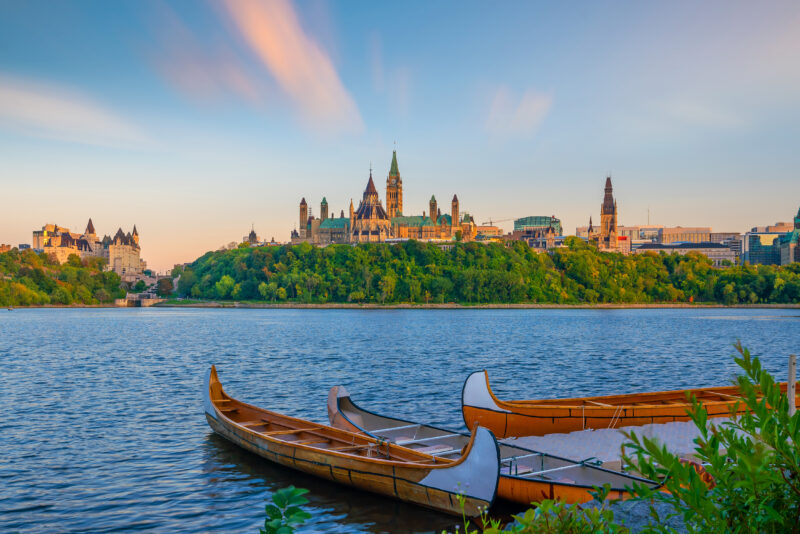 5. Ottawa
The capital of Canada has everything a good capital city should offer. You won't find it as dynamic as other cities in Canada, but it is still a popular expat destination. You can expect to find plenty of work opportunities, reasonable house prices, a low crime rate, considerable cultural life, and plenty of green spaces for leisurely picnics and bike rides.
Compared to Montréal, Toronto, or Vancouver, Ottawa may not seem as vibrant or trendy, but you will certainly not find it boring. You can enjoy an active city and nightlife, with plenty of restaurants, galleries, theatres, and museums to choose from. The city's numerous parks offer plenty of opportunities to enjoy the outdoors.
Ottawa is the fourth most populated city in Canada, even though it is superior in size to Toronto, Montréal, Vancouver, and Calgary combined. This city, located in the province of Ontario, has a population of 934,000 in an area of 2,790 km squared (30,031 square miles).
Among the top industries in Ottawa are technology, federal government, finance, insurance and real estate.
Their technology sector is particularly advanced, making Ottawa one of the main high-tech centers of North America. There are more than 70,000 jobs in this area alone.
The average salary in Ottawa is typically between 60,000 and 70,000 CAD (45,000-52,800 USD) a year.
Ottawa is the third most expensive city in Canada. A single person living in Ottawa should expect a monthly expense of approximately 2,700 CAD (2,000 USD). Renting an apartment in an expensive area would cost around 2,000 CAD (1,500 USD) a month. Utilities add 130 CAD (98 USD) to that, and 50 CAD (37 USD) more for internet.
Purchasing a home there can be quite expensive. Expect to pay between 3,000 and 5,000 CAD (2,260—3,770 USD) per square meter (11 square feet) for an apartment—the closer to the city center, the more expensive it will be.
If you are going to be driving in the city, you can purchase a mid-level car for 23,000 CAD (17,350 USD). Gas is quite affordable, at 1.17 CAD (0.88 USD) a liter. Opting for public transportation instead would cost around 117 CAD (88 USD) monthly.
In Summary
Canada, as a whole, is a very desirable country for expats to relocate to – each city has its own charms and benefits and it's really a case of finding the city best suited to your needs.
Canada has an abundance of natural beauty and wherever you may choose to settle you can be guaranteed a world of outdoor activities on your doorstep, from lakes and wildlife, to mountains and beaches.
For more information on how to become a permanent resident and citizen of Canada, please contact us at info@jthlawyers.com; our hotline +1(514)3970995 or WhatsApp +855(0)98676782.
Begin your application now!
Free consultation to understand your needs and provide result-oriented tailor-made immigration solutions. Complete our free assessment and we will review your eligibility for your desired programs! Simply fill out the form and we will be in touch with you within a business days in order to advise you of the following steps.