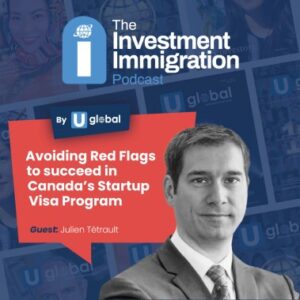 Investor, are you thinking of immigrating to Canada, sending your children to get education overseas, do not know which investment program you should choose to get Permanent Residency?
Here below is the link to UGlobal Immigration Investment Podcast with our President – Mr. Julien Tétrault, giving you an overview about Canadian Immigration Programs, tips in selection lawyers or law firm to represent your application and avoiding red flags to succeed in Canada Start-Up Visa Program:
https://www.uglobal.com/en/immigration/podcast/avoiding-red-flags-to-succeed-in-canadas-startup-visa-program-with-julien-ttrault/
For more information about Canada Start-Up Visa Program or other immigration programs, please contact us at info@jthlawyers.com | Tel: +1(514) 397-0995 | WhatsApp: +1(514) 647-0795.
Begin your application now!
Free consultation to understand your needs and provide result-oriented tailor-made immigration solutions. Complete our free assessment and we will review your eligibility for your desired programs! Simply fill out the form and we will be in touch with you within a business days in order to advise you of the following steps.